Premium Alaska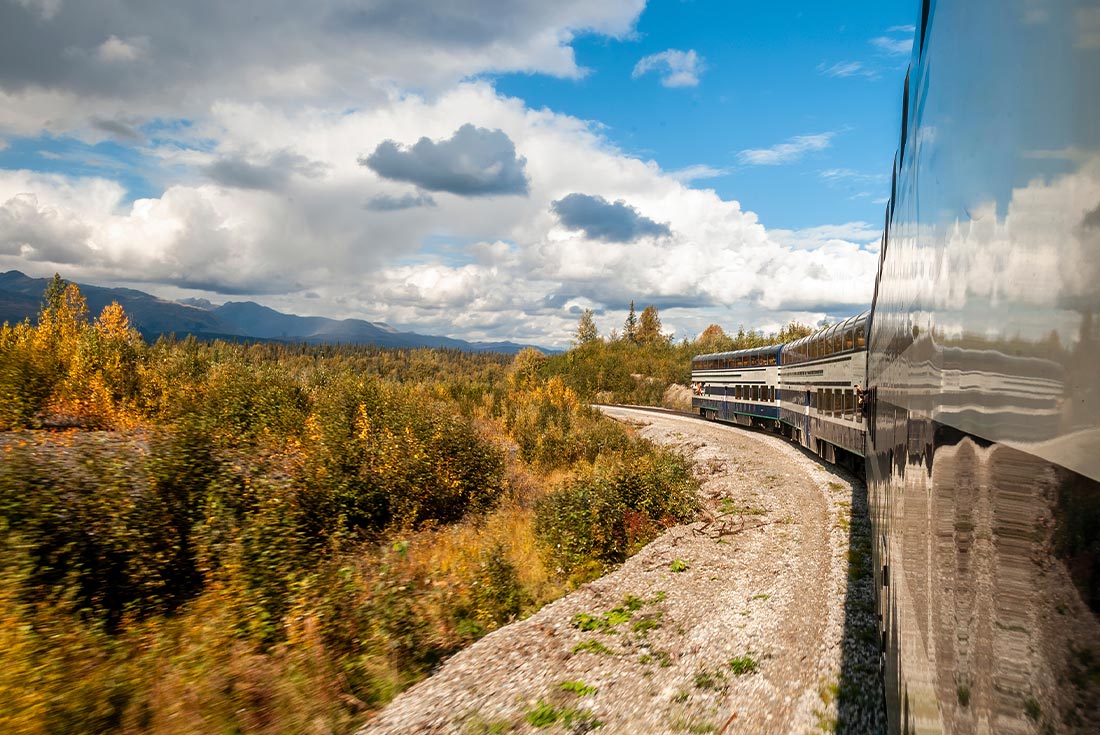 Premium Alaska
Connect with the people, wildlife and natural wonders of Alaska on this 10-day Intrepid Premium adventure. Discover vast wilderness areas from the convenience of your perfectly located hotels, with an expert local leader to show you all the best spots to spot animals. Travel to the top of Mount Alyeska, sample local beers on a private brewery tour and take the Wilderness Express Deluxe Dome cars to Denali National Park for the very best viewing experience from the train. You'll go behind the scenes and venture beyond the crowds in Alaska's most famous landscapes.
Activities
Fairbanks - Welcome Dinner
Fairbanks - Scenic Train to Denali
Denali - Tundra Wilderness Tour
Talkeetna - Kahiltna Birchworks Visit
Talkeetna - Denali Brewing Company Beer Tasting
Talkeetna - Orientation Walk
Talkeetna - Ranger Station Visit
Girdwood - Whistle Stop Train
Spencer Glacier - Guided Hike
Seward - Glacier and Wildlife Cruise
Anchorage - Alaska Wildlife Conservation Center Tour
Anchorage - Alyeska Tram
Anchorage - Alaska Native History Center
Anchorage - Lake Hood Visit
Anchorage - Alaska Aviation Museum Private Pilot Talk
Anchorage - Farewell Dinner
Highlights
Experience the rugged landscapes and breath-taking beauty of Alaska with a perfectly sized group. Leave the big tour buses behind and head off the beaten path with your group of 10 passengers - giving you the best chances at seeing wildlife and experiencing nature.
Get to know the people who call Alaska home through Premium Exclusive Experiences. Visit the Alaska Aviation Museum where you'll chat with a local pilot, stop by the Talkeetna Ranger station to explore the town's rich climbing history and visit the Alaska Native History Center to understand more about Alaska's Indigenous People, traditional custodians of this land.
Tour the Alaska Wildlife Conservation Center and discover how it preserves Alaska's wildlife through research and takes in injured animals to rehabilitate them and return them to the wild.
Enjoy the amazing landscapes of Alaska from all angles - traveling by private vehicle, scenic train, iconic school bus, and glacier cruise, you'll have countless opportunities to take in Alaska's most famous landscapes and spot its iconic wildlife.
Taste classic Alaska specialties, from your salmon bake welcome dinner, to a stop at Denali Brewing Company for a taste of one of the US's most remote brews, to testing out Talkeetna's favorite sweet treat - birch syrup.
We get it – travel's a big decision. It's not every day you fly across the world to wander the souks of Marrakech or enjoy a dreamy Angkor sunrise. But for us, it's been our everyday for the past three decades (whew, we're old). Let's just say we know what travellers really want: a balance of inclusions and free time, a mix of classic highlights and local secrets you won't find on Google. And of course, an authentic real life experience.

Our leaders are born and raised in-country, and they know their destination better than anyone. So you'll do more than just see a place, you'll live it. Small groups, big adventures and responsible travel – that's our thing. With 1,000 trips in a variety of styles across 100 countries, we're sure you'll find something you like. So let's get started.

1. Real life experiences
What is travel but a search for something that can't be Googled? We love the highlights, but the real magic for us happens well away from a beaten path. It's the little noodle bars, hidden galleries and backstreet bodegas and real life experiences you won't find in a search engine.

2. Connected by travel
The beauty of small group travel isn't just new places, it's new perspectives. It's the stories you hear and the friendships you forge, the ones that stick around long after the tan has faded. Our travellers come from all walks of life; what unites them is where they're going.

3. Travel works best when it's balanced
Time is your most precious resource, especially on a holiday. That's why our trips are built with balance in mind. A little group time, a little you time – the way it should be. And because our tours have an average of just 10 people, there's more of the world to go round.

4. With great travel comes great responsibility
The world's a pretty amazing place, and we want to do our bit to keep it that way. And all it takes is a little dash of self-awareness, a slightly softer tread. Sustainable travel doesn't mean no fun. It means that fun can be used to benefit others. Respect.

5. Adventure should be for everyone
Age, pillow preference, budget, travelling solo or together – it doesn't matter where you're from, what matters is where you'd like to go. Our mission is to deliver the best travel experiences to anyone who's up for them. So no matter if you favour a soft landing or a wild take-off, Intrepid stands for you.

6. Our leaders are the greatest
We realised early on that the best folks to show you the heart of a destination are, funnily enough, the ones that live there. These are our leaders: travel experts and friendly locals who know their countries back to front, from every backstreet bar to every hidden gallery. They're the big, smiling face of Intrepid (and we couldn't be prouder).